Inhoud
Maar hoe werkt het in het echt? De implementatie van Denken +Doen = Durven, een cognitieve gedragstherapie voor kinderen en jongeren met angststoornissen.
4 februari 2015
Nederlands
English
Samenvatting
In 2008 werd het CGT protocol 'Denken + Doen = Durven (DDD) voor de behandeling van angststoornissen bij kinderen (8 tot 18) jaar uitgegeven. Dit protocol werd eerder in een RCT onderzocht en bleek effectief. Resultaten uit de RCT (efficacy) kunnen niet zondermeer gegeneraliseerd worden naar de klinische praktijk (effectiveness). In deze studie wordt de effectiveness van DDD onderzocht en vergeleken met de efficacy uit de RCT. Deelnemers zijn therapeuten die met DDD werken in de klinische praktijk. Hun cliënten (kinderen en ouders) vulden de SCARED-71 in voor, na en drie maanden na behandeling. Effect sizes (Cohen's d) blijken medium tot groot en het percentage kinderen dat na behandeling geen klinische angstsymptomen meer heeft, neemt toe. DDD is ook in de klinische praktijk effectief. In de RCT waren effect sizes en het percentage kinderen zonder klinische angstsymptomen hoger. In de discussie wordt ingegaan op deze efficacy-effectiveness kloof.
Lees het volledige artikel als PDF
Literatuur
Addis, M.E., & Krasnow, A. (2000). A national survey of practicing psychologists' attitu des  toward psychotherapy treatment manuals. Journal of Consulting and Clinical   Psychology, 68, 331-339.
Bodden, D.H.M., Bögels, S.M., & Muris, P. (2009). The diagnostic utility of the Screen for   Child Anxiety Related Emotional Disorders-71 (SCARED-71). Behaviour Research and  Therapy, 47, 418-425.
Bodden, D.H.M., Bögels, S.M., Nauta, M.H., Haan, E. de, Ringrose, J., Appelboom, C., et al.   (2008). Child versus family cognitive-behavioral therapy in clinically anxious youth:  An efficacy and partial effectiveness study. Journal of American Academy of Child  and Adolescent Psychiatry, 47, 1384-1394.
Bodden, D.H.M., Dirksen, C.D., Bögels, S.M., Nauta, M.H., Haan, E. de, Ringrose, J., et al.   (2008). Costs and cost-effectiveness of family CBT versus individual CBT in clinically  anxious children. Clinical Child Psychology and Psychiatry, 13, 543-564.
Bögels, S.M. (2008). Behandeling van angststoornissen bij kinderen en adolescenten met  het cognitief gedragstherapeutisch protocol Denken + Doen = Durven. Houten: Bohn   Stafleu van Loghum.
Borntrager, C.F., Chorpita, B.F., Higa-McMillan, C., & Weisz, J.R. (2009). Provider attitudes   toward evidence-based practices: Are the concerns with the evidence or with the  manuals? ps.psychiatryonline.org, 60, 677-681.
Huppert, J.D., Bufka, L.F., Barlow, D.H., Gorman, J.M., Shear, M.K., & Woods, S.W. (2001).   Therapists,  therapist  variables,  and  cognitive-behavioral  therapy  outcomes  in  a  multicenter trial for panic disorder. Journal of Consulting and Clinical Psychology, 69,  747–755.
In-Albon, T., & Schneider, S. (2007). Psychotherapy of childhood anxiety disorders: A   meta-analysis. Psychotherapy & psychosomatics, 76, 15-24.
Öst, Lars-Göran. Does CBT work in routine clinical settings (a review of effectiveness   studies). Vereniging voor Gedragstherapie en Cognitieve Therapie, najaarscongres  2011. Veldhoven. 17 november 2011.
Peijnenburg, T.M., & Bögels, S.M. (2008). Protocollaire groepsbehandeling voor kinderen en jongeren met angststoornissen: Denken + Doen = Durven. In: C. Braet & S.M.  Bögels (Eds.) Protocollaire behandelingen voor kinderen met psychische klachten (pp.   25-350). Amsterdam: Boom.
Schoenwald, S.K., Garland, A.F., Chapman, J.E., Frazier, S.L., Sheidow, A.J., & Southam Gerow, M.A. (2011). Toward the effective and efficient measurement of implementation fidelity. Administration and Policy in Mental Health and Mental ealthServices  Research, 38, 32-43.
Shadish, W.R., Matt, G.E., Navarro, A.M., & Philips, G. (2000). The effects of psychological   therapies under clinically representative conditions: A meta-analysis. Psychological  Bulletin, 126, 512-529.
Silverman W.K, & Albano A.M. (1996). Anxiety Disorders Interview Schedule for DSM-IV  Child Version, Child Interview Schedule. San Antonio: The Psychological Corporation.
Southam-Gerow, M.A., Weisz, J.R., Chu, B.C., McLeod, B.D., Gordis, E.B., & Connor-Smith,   J.K. (2010). Does cognitive behavioral therapy for youth anxiety outperform usual  care in community clinics? An initial effectiveness test. Journal of the American Academy of Child & Adolescent Psychiatry, 49, 1043-1052.
Veerman J.W., & Yperen, T.A.van (2007). Degrees of freedom and degrees of certainty: A   developmental model for the establishment of evidence-based youth care. Evaluation and Program Planning, 30, 212-221.
Wampold, B.E., & Brown, G.S. (2005). Estimating variability in outcomes attributable to   therapists: A naturalistic study of outcomes in managed care. Journal of Consulting  and Clinical Psychology, 73, 914-923.  
Weiss, A.P., Guidi, J., & Fava, M. (2009). Closing the efficacy-effectiveness gap: Translating both the what and the how from randomized controlled trials to clinical practice. Journal of Clinical Psychiatry, 70, 446-449.
Weisz, J.R., & Jensen, A.L. (2001). Child and adolescent psychotherapy in research and   practice contexts: Review of the evidence and suggestions for improving the field.   European Child & Adolescent Psychiatry, 10: I/12-I/18.
© 2010-2023 Uitgeverij Boom Amsterdam
ISSN 0167-7454
De artikelen uit de (online)tijdschriften van Uitgeverij Boom zijn auteursrechtelijk beschermd. U kunt er natuurlijk uit citeren (voorzien van een bronvermelding) maar voor reproductie in welke vorm dan ook moet toestemming aan de uitgever worden gevraagd:
Behoudens de in of krachtens de Auteurswet van 1912 gestelde uitzonderingen mag niets uit deze uitgave worden verveelvoudigd, opgeslagen in een geautomatiseerd gegevensbestand, of openbaar gemaakt, in enige vorm of op enige wijze, hetzij elektronisch, mechanisch door fotokopieën, opnamen of enig andere manier, zonder voorafgaande schriftelijke toestemming van de uitgever. Voor zover het maken van kopieën uit deze uitgave is toegestaan op grond van artikelen 16h t/m 16m Auteurswet 1912 jo. Besluit van 27 november 2002, Stb 575, dient men de daarvoor wettelijk verschuldigde vergoeding te voldoen aan de Stichting Reprorecht te Hoofddorp (postbus 3060, 2130 KB, www.reprorecht.nl) of contact op te nemen met de uitgever voor het treffen van een rechtstreekse regeling in de zin van art. 16l, vijfde lid, Auteurswet 1912. Voor het overnemen van gedeelte(n) uit deze uitgave in bloemlezingen, readers en andere compilatiewerken (artikel 16, Auteurswet 1912) kan men zich wenden tot de Stichting PRO (Stichting Publicatie- en Reproductierechten, postbus 3060, 2130 KB Hoofddorp, www.cedar.nl/pro).

No part of this book may be reproduced in any way whatsoever without the written permission of the publisher.
Jaargang 55, nr. 4, december 2022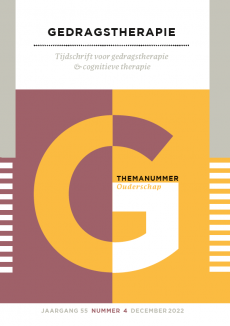 Inloggen VGCt en VVGT
Leden van de VGCt en de VVGT loggen in via de site van hun vereniging. Als u op die site bent ingelogd als lid, vindt u daar een button naar het Tijdschrift voor Gedragstherapie.
Nieuwsbrief Boom Psychologie
Meld u nu aan voor de maandelijkse nieuwsbrief van Boom Psychologie & Psychiatrie en blijf op de hoogte van de nieuwste uitgaven en aantrekkelijke aanbiedingen.
Aanmelden >>
Boeken