Inhoud
Getrapte zorg voor het chronisch vermoeidheidssyndroom
4 februari 2015
Nederlands
English
Samenvatting
Dit artikel beschrijft de uitkomsten van een gerandomiseerde gecontroleerde studie naar de effectiviteit en efficiëntie van getrapte zorg, zelfbehandeling met e-mail ondersteuning al dan niet gevolgd door cognitieve gedragstherapie (CGT), voor het chronisch vermoeidheidssyndroom (CVS). Patiënten met CVS (N = 171) werden willekeurig toegewezen aan ofwel getrapte zorg ofwel reguliere zorg. Reguliere zorg bestond uit CGT na een wachtperiode. Een intention-to-treat-analyse liet geen significante verschillen zien tussen de twee interventies. Beide waren even effectief in het verminderen van de vermoeidheidsklachten en beperkingen. Als zelfbehandeling, de eerste stap van getrapte zorg voor CVS, niet het gewenste resultaat opleverde, hadden patiënten minder sessies individuele CGT nodig om alsnog te profiteren van de behandeling. De tijd die een therapeut nodig had om een patiënt te behandelen met getrapte zorg, was significant minder in vergelijking met reguliere zorg. Getrapte zorg voor CVS is dus even effectief als CGT, maar kost een therapeut minder tijd om uit te voeren.
Lees het volledige artikel als PDF
Literatuur
Bazelmans, E., Prins, J., & Bleijenberg, G. (2002). Cognitieve gedragstherapie bij relatief   actieve en passieve CVS-patiënten. Gedragstherapie, 35, 191-204.
Bleijenberg, G., Prins, J., & Bazelmans, E. (2003). Cognitive behavioral therapies. Hoboken,   NJ: Wiley.
Cairns, R., & Hotopf, M. (2005). A systematic review describing the prognosis of chronic   fatigue syndrome. Occupational Medicine, 55, 20-31.
Cohen, J. (1988). Statistical power analysis for the behavioural sciences (2nd ed.): Hilldale,   NJ: Erlbaum.
Fukuda, K., Straus, S.E., Hickie, I., Sharpe, M.C., Dobbins, J.G., & Komaroff, A. (1994). The   chronic fatigue syndrome: a comprehensive approach to its definition and study.  International Chronic Fatigue Syndrome Study Group. Annals of Internal Medicine,  121, 953-959.
Jacobs, H.M., Luttik, A., Touw-Otten, F.W., & Melker, R.A. de (1990). [The sickness impact   profile; results of an evaluation study of the Dutch version]. Nederlands Tijdschrift  voor Geneeskunde, 134, 1950-1954.
Jacobson, N. S., & Truax, P. (1991). Clinical significance: a statistical approach to defining   meaningful change in psychotherapy research. Journal of Consulting and Clinical  Psychology, 59, 12-19.
Knoop, H., & Bleijenberg, G. (2010). Het chronisch vermoeidheidssyndroom. Behandelprotocol cognitieve gedragstherapie voor CVS. Houten: Bohn Stafleu van Loghum.
Knoop, H., Bleijenberg, G., Gielissen, M. F., van der Meer, J. W., & White, P. D. (2007). Is a   full recovery possible after cognitive behavioural therapy for chronic fatigue syndrome? Psychotherapy and Psychosomatics, 76, 171-176.
Knoop, H., Meer, J.W., van der & Bleijenberg, G. (2008). Guided self-instructions for people with chronic fatigue syndrome: randomised controlled trial. British Journal of  Psychiatry, 193, 340-341.
Malouff, J.M., Thorsteinsson, E.B., Rooke, S.E., Bhullar, N., & Schutte, N..S. (2008). Efficacy   of cognitive behavioral therapy for chronic fatigue syndrome: a meta-analysis. Clinical Psychology Review, 28, 736-745.
Newman, M.G. (2000). Recommendations for a cost-offset model of psychotherapy allocation using generalized anxiety disorder as an example. Journal of Consulting and  Clinical Psychology, 68, 549-555.
Powell, P., Bentall, R.P., Nye, F.J., & Edwards, R.H. (2004). Patient education to encourage   graded exercise in chronic fatigue syndrome. 2-year follow-up of randomised controlled trial. British Journal of Psychiatry, 184, 142-146.
Price,  J.  R.,  Mitchell,  E.,  Tidy,  E.,  &  Hunot,  V.  (2008).  Cognitive  behaviour  therapy  for   chronic  fatigue  syndrome  in  adults. Cochrane  Database  of  Systematic  Reviews,  3,   CD001027.
Prins, J. B., Bleijenberg, G., Bazelmans, E., Elving, L. D., de Boo, T. M., Severens, J. L., et al.   (2001). Cognitive behaviour therapy for chronic fatigue syndrome: a multicentre randomised controlled trial. Lancet, 357, 841-847.
Quarmby, L., Rimes, K. A., Deale, A., Wessely, S., & Chalder, T. (2007). Cognitive-behaviour   therapy for chronic fatigue syndrome: comparison of outcomes within and outside  the confines of a randomised controlled trial. Behaviour Research and Therapy, 45,  1085-1094.
Scheeres, K., Wensing, M., Knoop, H., & Bleijenberg, G. (2008). Implementing cognitive   behavioral therapy for chronic fatigue syndrome in a mental health center: a benchmarking evaluation. Journal of Consulting and Clinical Psychology, 76, 163-171.
Sharpe,  M.,  Hawton,  K.,  Simkin,  S.,  Surawy,  C.,  Hackmann,  A.,  Klimes,  I.,  et  al.  (1996).   Cognitive behaviour therapy for the chronic fatigue syndrome: a randomized controlled trial. British Medical Journal, 312, 22-26.
Van der Zee, K. I., & Sanderman, R. (1993). Het meten van de algemene gezondhied met de  RAND-36: een handleiding. Groningen: Noordelijk Centrum voor Gezondheidsvraagstukken.
Vercoulen,  J.  H.  M.  M.,  Alberts,  M.,  &  Bleijenberg,  G.  (1999).  De  Cheklist  Individual   S trength (CIS). Gedragstherapie, 32, 131-136.
Werf,  S.P  van  der.,  Prins,  J.B.,  Vercoulen,  J.  H.,  Meer,  J.  W.  van  der  ,  &  Bleijenberg,  G.   (2000).  Identifying  physical  activity  patterns  in  chronic  fatigue  syndrome  using  actigraphic assessment. Journal of Psychosomatic Research, 49, 373-379.
© 2010-2023 Uitgeverij Boom Amsterdam
ISSN 0167-7454
De artikelen uit de (online)tijdschriften van Uitgeverij Boom zijn auteursrechtelijk beschermd. U kunt er natuurlijk uit citeren (voorzien van een bronvermelding) maar voor reproductie in welke vorm dan ook moet toestemming aan de uitgever worden gevraagd:
Behoudens de in of krachtens de Auteurswet van 1912 gestelde uitzonderingen mag niets uit deze uitgave worden verveelvoudigd, opgeslagen in een geautomatiseerd gegevensbestand, of openbaar gemaakt, in enige vorm of op enige wijze, hetzij elektronisch, mechanisch door fotokopieën, opnamen of enig andere manier, zonder voorafgaande schriftelijke toestemming van de uitgever. Voor zover het maken van kopieën uit deze uitgave is toegestaan op grond van artikelen 16h t/m 16m Auteurswet 1912 jo. Besluit van 27 november 2002, Stb 575, dient men de daarvoor wettelijk verschuldigde vergoeding te voldoen aan de Stichting Reprorecht te Hoofddorp (postbus 3060, 2130 KB, www.reprorecht.nl) of contact op te nemen met de uitgever voor het treffen van een rechtstreekse regeling in de zin van art. 16l, vijfde lid, Auteurswet 1912. Voor het overnemen van gedeelte(n) uit deze uitgave in bloemlezingen, readers en andere compilatiewerken (artikel 16, Auteurswet 1912) kan men zich wenden tot de Stichting PRO (Stichting Publicatie- en Reproductierechten, postbus 3060, 2130 KB Hoofddorp, www.cedar.nl/pro).

No part of this book may be reproduced in any way whatsoever without the written permission of the publisher.
Jaargang 56, nr. 1, maart 2023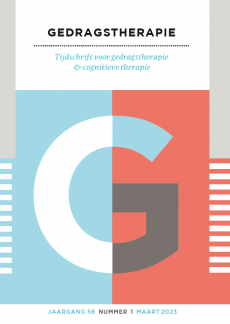 Inloggen VGCt en VVGT
Leden van de VGCt en de VVGT loggen in via de site van hun vereniging. Als u op die site bent ingelogd als lid, vindt u daar een button naar het Tijdschrift voor Gedragstherapie.
Nieuwsbrief Boom Psychologie
Meld u nu aan voor de maandelijkse nieuwsbrief van Boom Psychologie & Psychiatrie en blijf op de hoogte van de nieuwste uitgaven en aantrekkelijke aanbiedingen.
Aanmelden >>
Boeken